Knowledge is power! Educate yourself about healthy and unhealthy relationships.Learn about the additional barriers people from different communities face when experiencing domestic violence. Challenge traditional ideas of domestic violence & squash misconceptions. Read about how different patterns of violence intersect with one another. Spread that knowledge around!
Wear purple, the domestic violence awareness color. Show your support by adding some purple to your ensembles this October.
Donate!

If you're interested in supporting W.O.M.A.N., Inc.:

Allstate's Purple Purse Challenge! We are so excited to be selected to  participate in this annual event, a nation-wide fundraiser to raise awareness of financial abuse & to promote economic empowerment. We have a chance to win $100,000 and would love to garner your support in our cause. Click here to find out how you can get involved.
Contribute to our Pet Fund! Anyone who donates $25+ to the Pet Fund will receive a 2016 W.O.M.A.N., Inc. Pet Calendar
Shop at Tamar Gonsalves' Boutique on Chloe + Isabel.com this month and 20% of the proceeds will go back to us. Additionally, our board member, Simi Grewal, has generously offered to match the donations made from those sales.Thank you Tamar for this kind gesture and to our board member, Simi, for partnering with her to benefit W.O.M.A.N., Inc.!
4.  Attend an event near you! Domestic violence agencies from all around the country will be hosting events to honor DV awareness month. Participating in one is an easy way to be apart of the movement.
5. Contact a local domestic violence agency to learn more about domestic violence and what you can do to help.
6. Talk about it! Don't be afraid to initiate conversations about domestic violence awareness. With that said, part of being a good ally is to do your best to exercise non-judgmental love and support.  Here are some tips on disclosure to keep in mind when dealing with those experiencing abuse: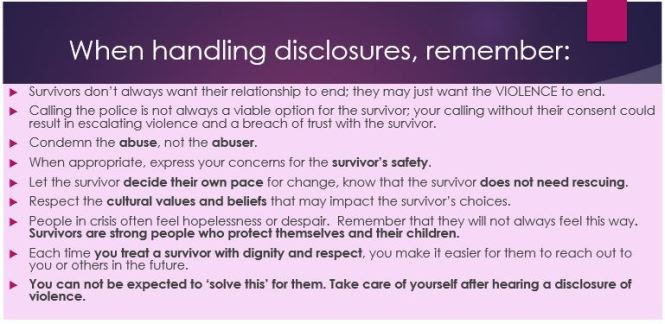 7. Take action on social media! The internet is FULL of amazing stuff to get involved with. Share with your networks why you're standing up against DV this month, start/participate in campaigns (Example: I Will End The Silence), organize a moment of silence. So many ways to show your support just from your computer at home.
Remember, domestic violence is a community issue. You can have a role in ending domestic violence. Learn more about ways you can help: